Our sanatorium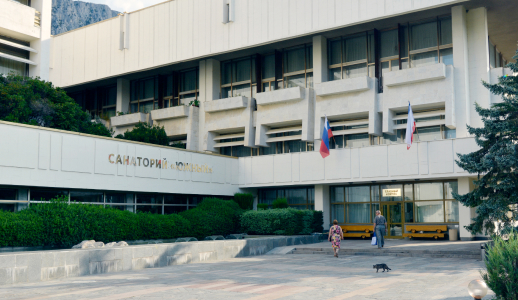 Sanatorium «Yuzhny» is a branch of the Federal State Budgetary Institution Multifunctional complex of the Ministry of Finance of the Russian Federation.
The resort is located in a unique place on Cape Ai-Yuri, which is the southernmost point of the southern coast of Crimea, near Foros. This is one of the most environmentally friendly and least affected by human activity places of the Crimea. The location is incredibly beautiful: with its own small and cozy bay, where you can breathe clean and untouched mountain, sea and forest air at the same time. Here you can enjoy peace and quiet, beautiful sunrises and magical moon paths.
Sanatorium « Southern » – This is a unique architectural complex, the buildings of which are interconnected by glassed-in galleries, allowing you to go to any corner of the health resort without going outside.
The number of rooms is located in 4 residential buildings and a cottage. Consists of 70 rooms, the highest category of accommodation – improved standards, single, 2, 3 and 4 room suites.
On the territory of the Sanatorium there are medical facilities, sports fields and a swimming pool, gazebos and terraces for rest, restaurants, cafes, a cinema hall and billiards.
Sanatorium «Southern» always waiting for guests!
We are located at: Russia, the Republic of Crimea, Yalta, pgt. Foros, ter. Foros-1